Top 10 Costly Workplace Injuries and How to Avoid Them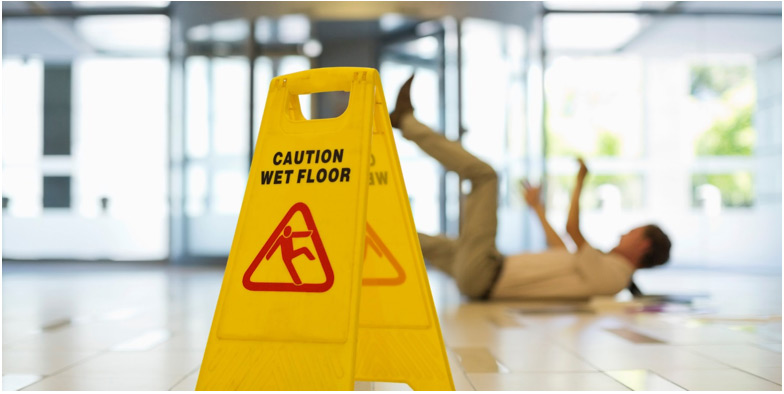 Many employers take great care in complying with safety regulations on site to ensure their employees and their pockets remain untouched. What company wants to lose valuable employees to an easily preventable injury? Furthermore, what company wants to pay out for losing staff? So, relying on OSHA guidelines and insightful HR personnel has become the norm for companies aiming to operate safe facilities. Unfortunately, workplace safety isn't the only factor at play in common injuries, and the results are far more costly than you might imagine. The following are some of the leading causes of disabling workplace injuries, their costs, and how to avoid them.
Repetitive Motions Involving Micro-Tasks: Cost $1.82 Billion
From the secretarial level to the executive, repetitive tasks are unavoidable. This includes daily use of keyboards, smart phones, book binding machines, copy or fax machines, and regular duties associated with mailings or filing assignments. These repetitive motions can take a huge toll on an employee's physical well-being leading to conditions such as carpal tunnel, tendonitis, and chronic back or joint pain.
How to avoid: Employers can avoid these costly injuries by ensuring employees have access to wellness initiatives that involve proper posture, stretching, and at-your-desk exercises. Companies may also encourage regular breaks to alleviate cramping or overexertion often associated with repetitive motions.
Caught in/Compressed by Equipment; Struck Against Equipment; Struck by Equipment: Cost ranging from $1.85 Billion to $5.31 Billion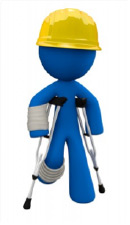 When reviewing the above causes of workplace injury, factory or construction settings may come to mind with bulky, dangerous equipment and strict safety procedures. However, injuries resulting from actions as simple as walking into an open file drawer, being struck by an object dropped by a clumsy coworker, or getting caught in office equipment fall under this category. Injuries of this nature can be as mundane as a small bruise or scrape, or as severe as a concussion, broken bone, or pulled muscle.
How to avoid: Preventative measures go a long way. Ensure employees and office management staff are trained to maintain a safe and orderly office environment by closing all drawers, tending to protruding objects that could cause harm, maintaining shelved objects in a safe manner, following safety measures when using office equipment, and making certain that office equipment is secure at all times. If mechanical aids or safety equipment are necessary in any given setting, be sure all staff are trained on when and how to make use of them. Regular review of office layout, office equipment, and potential safety hazards will help employers to manage any workplace risks in real time and manage them appropriately.
Falls on Same Level; Falls on Lower Level; Slip or Trip Without Falling: Cost ranging from $2.35 Billion to $10.17 Billion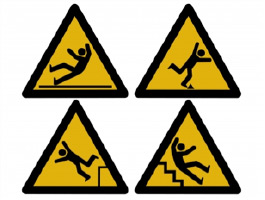 Workplace injury can result from slipping on a wet floor, falling up or down a set of stairs, or tripping over an object. It is important to note, however, that employees can fall, slip, or trip for a number of reasons that are not completely related to working conditions. For employees who lead demanding personal and professional lives, levels of awareness can suffer while workplace stress levels rise. Of course, keeping a watchful eye over potential safety hazards in the workplace is vital, addressing employee awareness and stress levels efficiently is just as crucial when looking to prevent accidents of this nature.
How to avoid: Once again, preventative measures like providing safety rails in stairwells, marking wet floors, and warning of areas where the floor is damaged/under construction are key to prevent injury that can result from these scenarios. In terms of employee mindset, levels of awareness and workplace stress can be moderated by wellness programs that allow employees an opportunity to unwind and refocus. Wellness activities such as mindfulness, meditation seminars, and fitness initiatives have been proven to increase employee productivity through improving employee mental and physical health.
Does your policy adequately prevent accidents like these?
If your company needs help reviewing, creating, or instating safety policy, or has any further questions, we can help. Call our office; speak to a human resource professional about your company's policies or employee handbook. (631) 794-7400. Write to us: info@compasswfs.com or visit our website compasswfs.com
This is not legal advice and will not cover all situations and circumstances.
https://compasswfs.com/wp-content/uploads/2017/02/safety-blog.jpg
394
784
admin
/wp-content/uploads/2016/12/compass-logo.jpg
admin
2017-02-14 16:28:02
2017-04-25 11:27:57
Top 10 Costly Workplace Injuries and How to Avoid Them