Compass Workforce Solutions, LLC (CWS) is a certified Women Business Enterprise human resources consulting firm dedicated to providing HR expertise to small and mid-size businesses.
Our work is focused on four key areas of HR that make a difference in business profitability and business valuation: compliance, operational controls, dealing with workplace conflicts, and payroll preparation. We provide solutions to address employer requirements and obligations at the Federal, State and Municipal level. While we serve clients that are headquartered in the tri-state area, our work is national in scope as we handle HR needs wherever our clients have operations.
Compass Workforce Solutions was launched in 2009 by founder and principal, Christine Ippolito, SPHR, SHRM-SCP. After a decade of serving as a top human resources executive at high-growth companies and for-profit higher education institutions, Christine recognized that the economy and growing government requirements were putting compliance burdens on small businesses that owners and executives were not prepared to manage without assistance.
In 2014, CWS was the recipient of a Hauppauge Industrial Association – Long Island (HIA-LI) Business Achievement Award recognizing it as Rookie of the Year for companies five years old or less. CWS was chosen by a panel of judges assembled by HIA-LI, the recognized voice for business on Long Island, from an outstanding pool of Long Island businesses. Since the company was founded, it has achieved 100% growth each year. Compass Workforce Solutions has also experienced annual increases in staff, now currently employing 10 HR professionals.
From its corporate office in Hauppauge, Long Island, Compass Workforce Solutions serves clients headquartered in New York City, New York State and Northern New Jersey. It is important to note that we service all clients' employees across the United States.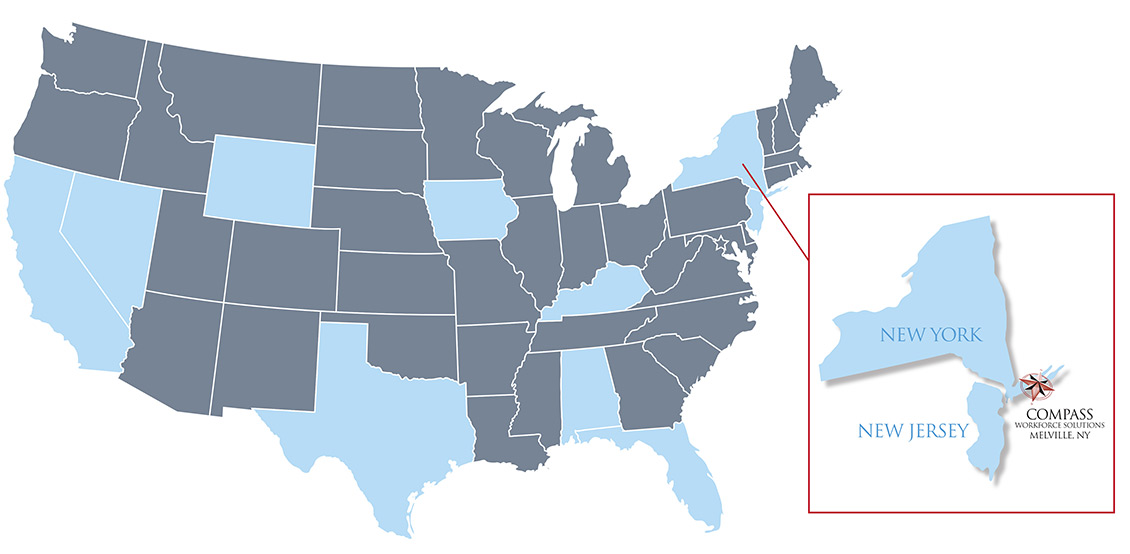 Compass Workforce Solutions is a human resources consulting firm dedicated to providing HR expertise and resources to meet the needs of small businesses in New York, New York City and New Jersey. We provide HR solutions to navigate the challenging waters of employment regulation — We love going to work and so can you!
Expertise — We are experts in HR and committed to staying abreast of best practices and regulatory changes that impact our clients.
Efficient & Effective — We work smart and leverage technology to our advantage. We provide straightforward responses and effective solutions to our clients that address and solve complex business and regulatory requirements.
Professionalism — We are polished and professional. You can count on us to keep our word and meet deadlines.
Integrity & Honesty — We hold ourselves to a high ethical standard as defined by the Society of Human Resource Management.
Passion — We are passionate about human resources and enjoy what we do. We demonstrate this passion to each client and employee we work with by providing friendly and engaging service.
Opportunity — We actively seek to create opportunity for our clients and their employees to be successful.
Carefrontational — We do not shirk from bad news or delivering difficult messages. Yet, we do so in an empathetic and compassionate manner that conveys a clear and respectful message.