The Importance of Knowing Who We Are
&

Where We Want to Be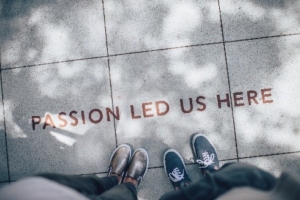 It's the beginning of a New Year and it's no coincidence that the Greater Good Science Center at the University of California-Berkeley put out its January 2022 Happiness Calendar recommending that this is a good month to "… find your motivation and purpose."
Although engaging in practices that promote happiness is a uniquely human and individual endeavor, clarity of purpose and direction is just as fundamental a principle in any business that wants to thrive in a volatile, uncertain, complex, and ambiguous environment.
As with every new beginning, this may be the perfect time for leaders to take a moment to reflect on their businesses' mission and vision – two critical elements that provide a foundation for the business' products, services, communications, organization, and culture.
There are many reasons why this is a task worthy of our attention but, as the lines often get blurred between vision and mission statements, let's briefly define the two concepts.
Mission: It is essentially an expression of the reason our business exists, our core purpose, our passion for being in business. Our company's mission statement addresses what we do, whom we serve and how we serve them. It communicates to our employees and to our external stakeholders why we do what we do, highlighting the impact our company is making on the world. It is intended to inspire people to action.
Vision: It is an expression of what our organization aims to achieve over the long term – a description of the world as it would exist if our company were to succeed in achieving its grandest aspirations. It is intended to inspire people to dream and imagine; it promotes growth, innovation and helps our teams focus on what matters the most to our company.
So why bother? Why take time out of our hectic schedules to craft our mission and vision or reflect on what we already may have in place?
The vision and mission statements are a vital part of our organization's infrastructure. They give everyone involved in our company a shared purpose and direction. They communicate clear and concise messages to both internal and external parties.
Internally, our mission and vision statements:
Set goals and identify measures of success
Inspire, motivate, and unite our staff toward common goals
Guide strategic planning and decision-making around priorities, resource allocation, etc.
Establish and reinforce shared values, norms, and beliefs
Impart a sense of identity and belonging to our staff
Serve as the foundation for guiding organizational change
Externally, these statements:
Inspire and generate support from our suppliers, partner companies, etc.
Communicate goals and aspirations to potential employees to attract the right talent
Generate commitment and loyalty from our existing customers and attract new customers
For those of us who already have mission and vision statements in place, it's a great time to revisit them and reflect on whether they are still accurate and, more importantly, relevant to the current environment – if not, we need to revise them and reintroduce them to our staff and external stakeholders.  For those of us who don't have those guiding statements in place for our business, it will behoove us to take some time to commit our thoughts and our vision in writing so our team can help us take the business in the right direction by delivering the right results. As we go about defining the present and envisioning the future of our business, we may find of great value to also involve our teams in that process.
If you want to have a conversation around your mission and vision and how to bring it to life in your company and align it with your HR practices, reach out to connect with one of our expert staff.