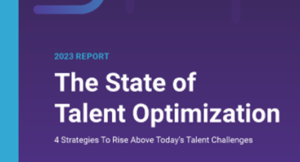 The talent economy has been in a state of constant flux – first the workforce was thrust into a remote work environment, then came the Great Resignation, followed by the phase of Silent Quitting, and then came the shift to the Silent Firing stage, and … you get the picture. After all these shifts and movements, we have finally come to focus and talk about what is really at the crux of the matter – employee productivity. The recent trend of CEOs of well-established and known companies issuing return-to-office mandates is predicated on their belief (and some early data) that workers are most productive when in the office.  
While the argument of where employees are their most productive will more than likely rage on until we have enough sound empirical data, the issue of work location is a bit of a Don-Quixotian windmill. The reality is that to optimize our business performance, we need four things, regardless of where our staff work. 
An organizational structure and roles that are aligned with our business strategy and the business results we are after;

 

Hiring practices that ensure that we hire the right person for the right role who will enhance the capabilities of the existing team;

 

Leadership and management practices that engage and inspire our team members by meeting them where they are; and,

 

A process for assessing current state to aid in early identification and course-correction in areas where there is misalignment or a shift in strategy or priorities.

 
While these four things may seem obvious and straightforward, in practice we tend to fall short on delivering to each of these key elements that lead to optimal business results. In the latest survey of 150+ HR executives conducted by Predictive Index and HR Dive, only 33% report having a talent strategy that aligns with their business strategy and only 36% believe they have the right executive team in place to deliver on their business strategy. On the hiring front, only about a third of hiring managers report having the objective data they need to guide their hiring decisions. And once new hires are onboarded, almost 40% of HR executives report that they struggle with retention and almost 20% struggle with employee engagement.  
To address all of these critical elements in a comprehensive and integrated way, we need the right framework and tools to tackle today's talent challenges. In our work with our clients, we use the Predictive Index's Talent Optimization business framework. This enables us and our clients to put the right people in the right roles, for the right business needs and to manage, inspire, and engage staff where they are at, be it at the office, at home or working from an exotic island. In essence, Talent Optimization gives us and our clients the people data and analytics we need to align talent strategy to business strategy so that we can achieve the optimal business results that we want.
To get a free copy of the 2023 State of Talent Optimization Report exploring the main challenges that face leaders today and the data-driven strategies to address them, fill out your information below.