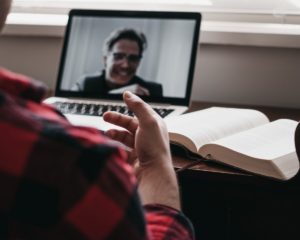 The Predictive Index's 2021 People Management Report just came out earlier this month and, among other interesting findings, highlights the manager competencies that matter the most as companies try to navigate the world of work in the post-Covid-19 era.
Managers are navigating some of the most challenging times right now and are called to play a key role in leading and supporting their teams through highly ambiguous transitions in the way we work.
Based on the study's findings, employees expect their managers to lead with confidence and honesty, effectively communicating with and supporting them as they are trying to adjust to new work models. What is even more interesting is the shift that has occurred in employees' perceptions of management leadership since 2019. When asked to identify the top 5 skills their managers lack, what used to be #5 two years ago has now jumped to the #1 spot.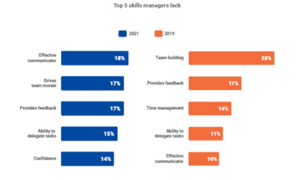 Employees feel that the #1 skill their managers lack is effective communication, followed by their ability to drive team morale and provide feedback.
It should come as no surprise that communication skills have risen to the top of the "must have" list of what employees want in the current environment. The transition from in-person to remote and now mostly hybrid work environments has amplified employees' need to feel connected and informed to stay engaged and manage stress and burnout. Communication skills that we considered 'good enough' in a face-to-face, physically proximal environment have proven to be inadequate in a remote or a hybrid environment. And while there are many elements that go into being an effective communicator, the most critical factor in turning communication skills into a superpower, especially in a remote work environment, is having self and other awareness.
We often work with our clients, using the PI platform, to enhance the way they communicate with their teams by understanding their own and their employees' natural behavioral preferences and underlying drives and motivations. Armed with that insight, they can flex in how they communicate with their team members, meeting them where they are.  For team members who have a high need for socialization, it's all about giving them 'face time' – give them the opportunity to talk things 'live,' be it in-person, via zoom or any other means that give them the personal contact. Whereas for team members who are results-focused and driven, give them the facts, talk about results and bottom line, minimizing any "fluff."
By understanding (and appreciating) that everyone communicates differently and by identifying our own and our team members' styles and preferences, we can craft and deliver messages that resonate and keep them engaged. This will continue to be key in effectively managing and retaining our staff, especially during a time that many consider as "The Great Resignation" period.
If you want to gain insights into your and your team's natural behavioral patterns and communication styles, please reach out to have a conversation. 
Our team is a Predictive Index® partner, focused on helping our clients make data-driven people decisions for optimal business results.