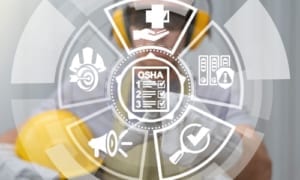 The Occupational Safety and Heath Administration (OSHA) requires certain employers to maintain records of workplace injuries and illnesses, and these records may need to be posted in the workplace between February 1 and April 30, and/or filed electronically with OSHA by March 2nd.
Here is a summary of these requirements:
Employers with ten (10) or more employees must keep records of all serious work-related injuries and illnesses. These records include a Log of Work-Related Injuries and Illnesses (OSHA Form 300) and an Injury and Illness Incident Report for each incident (OSHA Form 301).
Certain low-risk industries are exempted from these record-keeping requirements (see list of exempted industries CLICK HERE).
A serious work-related injury or illness is defined by OSHA as:
Any work-related fatality.
Any work-related injury or illness that results in loss of consciousness, days away from work, restricted work, or transfer to another job.
Any work-related injury or illness requiring medical treatment beyond first aid.
Any work-related diagnosed case of cancer, chronic irreversible diseases, fractured or cracked bones or teeth, and punctured eardrums.
There are also special recording criteria for work-related cases involving: needle sticks and sharps injuries; medical removal; hearing loss; and tuberculosis.
These records must be maintained at the worksite for at least five years.
Every February 1 through April 30, covered employers must post a summary of the injuries and illnesses recorded the previous year (OSHA Form 300A). Also, if requested, copies of the records must be provided to current and former employees, or their representatives.
Establishments with 250 or more employees that are currently required to keep OSHA injury and illness records, and establishments with 20-249 employees that are classified as being in certain industries with historically high rates of occupational injuries and illnesses (VIEW LIST), must electronically submit their 2019 OSHA Form 300A to OSHA by March 2, 2020.
Here is a link to the OSHA WEBSITE PAGE where the electronic submission can be made.
All employers, regardless of size or industry, must report to OSHA any worker fatality within 8 hours and any amputation, loss of an eye, or hospitalization of a worker within 24 hours.
The OSHA 300, 300A and 301 forms can be DOWNLOADED HERE.
If you would like assistance in determining whether the OSHA Compliance recordkeeping and reporting requirements apply to your business, please call our office at 631-794-7400 to speak with one of our HR Business Partners, or EMAIL US.