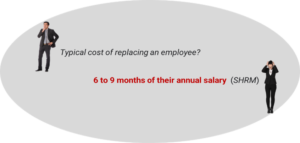 Quality of Hire would be the metric to focus on! Why? Because by planning for and measuring it, we can set the stage for all the other steps in the recruitment and selection process that precede the onboarding of our new hire.
In measuring our recruitment and hiring efforts, we spend a lot of time focusing on efficiency and costs and rarely think about the metric that ultimately matters – i.e., how good is our new hire and what type of impact it has on our business. While important to track how long it takes us to fill an opening (think of the consequences of chronically open positions, such as resultant burnout of existing staff, lost opportunities, etc.), neither of these metrics have an empirical linkage to the new hire's contributions to the company's top and bottom line (i.e., the quality of our hire).
The fact that we tend to focus on efficiency types of hiring metrics is not without reason – they are easier to measure than quality of new hires. Quality of Hire is a bit like the concept of beauty – it means different things across positions, companies, and circumstances. Quality is elusive and requires investing time and effort in defining what success looks like once in role and what factors contribute to that success.
Frequently, we use hiring manager satisfaction, successful completion of training, performance reviews (90-day, semi- or annual), retention, engagement, etc. as means of evaluating the quality of new hires. All those metrics are quite acceptable but plagued by a serious shortcoming. They all are after-the-fact types of measures, with a long-term horizon, that are usually disconnected from the processes that precede them; namely, the recruitment and selection process. Without defining what contributes to successful completion of training, on-the-job performance, etc., we don't have a means via which we can systematically focus our candidate recruitment and assessment efforts on the factors that matter.
When working with our clients (and, of course, in our own hiring), before initiating recruitment for an open position, we take time to collectively reflect on factors that contribute to incumbent success in the specific position. And here we think holistically – what does a new hire have to bring to the table in terms of mind (cognitive and behavioral characteristics and preferences), heart (passions, interests, values), and briefcase (education, experiences, knowledge), to be successful? Some areas of reflection include:
What are the 20% of the activities or tasks performed in this role that deliver 80% of impact to the business?
What are the business metrics that are impacted by the work performed by an incumbent in that role?
What projects, initiatives or challenges will the new hire be working on during the first year of their employment?
What are the three or four things a new hire should be able to achieve by the 90th day of employment?
What functional / technical competencies does the new hire need to have on Day 1 on the job to be successful and optimize the learning curve?
What functional / technical competencies can we realistically train the new hire on?
What are the interactions between the new hire and internal / external stakeholders and what do they require on the part of the new hire to be successful?
What are the values and behaviors that align to what the work team, department and company need to deliver successfully against established goals?
Once these are known, we design a recruitment and selection process that focuses on the key elements that matter – be it functional or core competencies – by creating the right messaging for our job ads, employing the right interview questions and assessments, and designing the right onboarding process to set new hires up for success. And once the new hire is onboarded, we use these same key elements to evaluate the success of our new hire. Making quality hires is not a matter of luck or a happy accident – it takes dedicated thinking, planning, and execution to make them happen.
If you are not yet measuring Quality of Hire or you are doing well at hiring efficiently but feel you are missing opportunities to onboard hires who bring true value to your company, reach out to have a conversation with one of our expert consultants.