How Executives Are Tackling the Great Resignation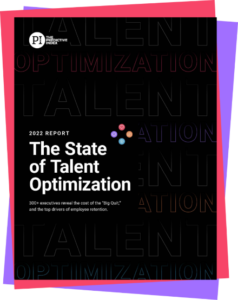 If you don't already know this about us at Compass, we are strong advocates of the Predictive Index (PI) Talent Optimization framework. Talent Optimization is all about having the right people in the right roles, for the right business needs. In essence, Talent Optimization is a four-part discipline that uses people data and analytics to align your talent strategy to your business strategy so that you are able to achieve the optimal business results that you want.
If there was ever a time to be doggedly focused on this practice, that would be now. The world of work – how, when and where we work, and, how we view and value our work – continues to shift. No one really knows how all this will play out in the long run and the Great Resignation phenomenon we've been experiencing in recent times has proven to not have a quick resolution because it's more complex that we would like to think.
To explore the impact the Great Resignation has on businesses, in November 2021, the Predictive Index surveyed 326 executives to learn about their experiences. Below are some of the key findings:
Companies estimate losing 20% of their workforce during the latter part of 2021
The cost of hiring, onboarding and training departing employees is estimated at $11,372. That cost would be even greater if you factor in the impact this 'mass exodus' has on remaining employees' morale and productivity, on the company's ability to service their client base and other missed opportunity costs (e.g., grow existing/new business or innovate and implement new products/services/initiatives)
Given these key findings, it comes as no surprise that 75% of the executives surveyed reported that the Great Resignation has impacted their bottom lines.
So, what do executives believe drives the quit rate in their companies?
Executives believe the top reasons causing their employees to quit are:

Inflexible work options or hours (32%, with the companies most impacted being in the Hospitality/Food Service and the Financial/Insurance industries)
Lack of personal/professional development opportunities (18%)
Stress or burnout (18%)
Are Talent Optimization and HR practices related to a company's turnover? According to the survey findings:
Companies that have the right people on board experience an average attrition rate of 13%, compared to 22% among their peers.
Remote-friendly companies are experiencing 33% lower turnover.
Companies that prioritize health care benefits experience 27% lower turnover.
Inclusive companies are experiencing 19% lower turnover.
Clearly, companies that prioritize alignment of business and people strategies and focus on the employee experience—whether through benefits, flexibility, inclusion, or a sense of purpose – are enjoying lower attrition rates than their counterparts.
Thus, the main takeaway of this year's PI survey is that if we want to increase our odds of reducing attrition rates in our companies, we need to meet people where they are today and adapt our practices to address the uncertainties of tomorrow. Never was the need more pressing than now to recognize the value of our people and create a work environment where they can all thrive. And the way to achieve those objectives is through continuously engaging in the discipline of talent optimization.
If you want to explore how your business can benefit from implementing an internal Talent Optimization practice, reach out to connect with one of our expert staff.
You can access the full report at https://www.predictiveindex.com/learn/talent-optimization/resources/surveys-reports/the-state-of-talent-optimization/