Employee Engagement and Recognition

What is employee engagement?
While employee engagement may be linked to employee happiness or employee satisfaction, employee engagement is not either of the two. Employee engagement is the emotional commitment the employee has to their organization and its goals.
Having engaged employees leads to higher customer service, higher quality in work, and more production because the employee is actively engaged and cares about the work that they are doing.
As former Campbell's Soup CEO, Doug Conant once said, "To win in the marketplace you must first win in the workplace." Employee engagement is the key to activating a high performing workforce.
How can you increase employee engagement in your organization?
One way to increase employee engagement is through peer recognition. Peer recognition helps define company culture in a positive way. Peer recognition helps remind employees that they are a team working towards common goals, as well as strengthens the team bond.
When creating a peer recognition program, it is important to remember that these programs are not one size fits all; you must find one that fits your organization.
Here are four keys to developing a successful peer recognition program:
Make it public— Public recognition often is more valued by employees than other more conventional forms of recognition. If it is known company wide- it can influence multiple different departments, teams, and employees.
Keep it consistent— If your company is building their own program, make sure recognition is consistent in terms of when it is awarded, how it is awarded, and why. This helps support the organization and makes it easier for employees to recognize each other.
Make it a part of the company culture— It is important that team leads and management are encouraging their teams to recognize each other for their innovation and accomplishments.
Think outside the box— Try to make it unique- don't offer the typical cash reward. Poll your employees to determine what rewards they might like or what rewards might motivate them.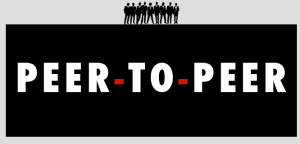 Some fun peer recognition programs are:
A company trophy that gets passed around from employee to employee.

Employees can nominate another employee who they believe deserves the weekly, monthly, or quarterly company trophy.

Lunch Draws.

Recognized employees go into a lunch raffle. The winners of the lunch draw enjoy a free lunch. Everybody loves free food!

Send cards.

This can be through a designated peer to peer platform or in-hand cards. But allow employees to send thank you's or kudos to fellow employees. You may even want to include gift cards! I.E. every employee has a monthly kudos bank they can send to team members for good work!

Prize tokens

When an employee sees a coworker doing something great or going above and beyond they can give them a token. The tokens can be redeemable for prizes, gift cards, parking spots, lunches, or other rewards.
Please note- these are just a few ideas of ways your company can implement a peer recognition program.
Do you have questions about how to implement an employee recognition program or how an employee recognition program could impact your business? Speak with one of our HR Business Partners today at 631.794.7400.
https://compasswfs.com/wp-content/uploads/2017/05/engagement.gif
347
920
compassadmin
/wp-content/uploads/2016/12/compass-logo.jpg
compassadmin
2017-05-29 20:21:18
2017-05-29 20:21:18
Employee Engagement and Recognition