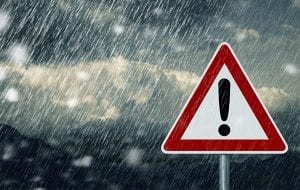 We had a very snowy winter and some employers were ready with an Inclement Weather policy…others were scrambling.  Just because it is summertime, you are not off the hook.  Hurricane season runs June to November.  With it comes flooding, power outages, you know the drill.
If you still haven't drawn up an Inclement Weather Policy, there is still time!   The policy does not need to be part of the company handbook but should be communicated to employees in advance and/or as a reminder when inclement weather is anticipated.  Things to consider are:
How will the company advise employees if the office is open or closed?
We suggest you establish a procedure for notifying employees of an office closing or delayed opening.
If an employee reports to work and they were not notified of the office closing, you will be obligated to pay:
State of New York at least 4 hours
State of New Jersey at least 1 hour
Consider making an announcement early in the morning – 5 AM or 6 AM – if the office is closed or open for business.  There are many venues to use:
Recorded message on the firm's main phone line
Announcement on company Webpage, Facebook or other Social Media
Email Distribution
Managers calling employees
Be Specific in the Message.  Don't assume employees will know that the office is open just because there is no message to the contrary.  Be specific about the date, etc.  Here are examples:
The offices of XYZ are open for business today Monday, January 1.  If you are unable to commute to work due to the weather conditions, please call your manager before your scheduled start time to notify them you are not reporting to work.
Or
The offices of XYX are closed today Monday, January 1 due to inclement weather.  The office will reopen tomorrow, Tuesday, January 2 at 9 AM.
Do employers need to pay employees if the office is closed for inclement weather?
This is a time when Exempt and Non-Exempt classification of employees is important.  Exempt employees must be paid their full weekly salary when they work any part of a workweek.  An employer can deduct accrued paid time off or vacation leave from exempt employees.  However, if the exempt employee does not have any paid time off or vacation leave, they still must be paid their full salary if they work a partial or whole day.
For non-exempt employees, employers are only required to pay for actual time worked.  However, because of the circumstances, employers may want to consider if the staff can make up the missed time or use paid time off or vacation leave.
Keep safety in mind.  When establishing a policy, the company should stress the safety and well-being of the employees.  Always let the employee decide if they should commute to work as conditions are different across regions.   You don't want it to be reported on the 6 o'clock news that an employee was endangered because the employer said they were required to come to work.  If there are essential duties that need to be conducted, be sure you have the necessary tools in place prior to inclement weather so business can continue.
Need help creating a policy or classifying employees correctly, contact us:  info@compasswfs.com
Compass Workforce Solutions can help.  Call our office, speak to a human resource professional about your company's policies or employee handbook at 631.794.7400.
This is not legal advice and will not cover all situations and circumstances.