Prepare to come back stronger with more tools and strategies for winning teams!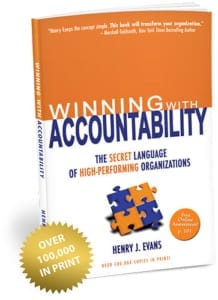 Please join us in our 2nd Managers Book Club as we read Winning with Accountability, The Secret Language of High Performing Teams by Henry J. Evans.
We kick off on Thursday, July 16th with four, bi-weekly meetings and will conclude the week prior to the Labor Day Holiday weekend.
In appreciation of our retainer clients, the book club is complimentary and the small investment is the cost of the book $15.00.
Project clients are invited at $125.00 per person including the book. Special programs are available.
Feedback from our prior club participants on their experiences inspired us to move forward again despite the current crisis:
"Your program today got high marks from my managers! Congratulations to you and your team."
                                                                                       – Stephen, CEO/CFO
"Great session today – thank you for facilitating this!" "Thanks for this opportunity – it's been fun!"
                                                                                      – Donna, Risk Management
"Thank you! I really found the book club thought provoking, and its already impacted my day to day relations with co-workers.  Thanks for that!" 
                                                                                     – Gail, Manager
Contact our office today at 631-794-7400 or

EMAIL US

for more information!