Leading With Agility: Key Takeaways From Our January 2023 Webinar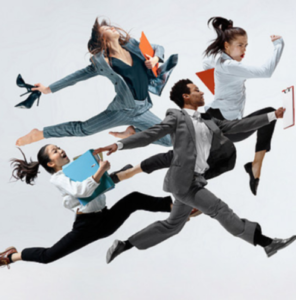 On January 18 we kicked off our 2023 Compass webinar series with a look at what it takes to lead with agility from the perspective of two former Green Berets and current successful entrepreneurs – Fran Racioppi and Jason McCarthy.
Fran Racioppi is the Founder & CEO of FRSIX, a strategic global resourcing firm, an advisor on talent management and leadership for Analytix Solutions, a 900-person Boston-based firm, and has previously led Genius Fund as CEO.
Jason McCarthy is the CEO of GORUCK and Sandlot Technology. GORUCK, a multi-million-dollar brand, executes 1,000+ Rucking Events per year, all over the globe, led by current and former Special Forces.
It was a lively and lighthearted conversation about a topic that has great impact on a company's ability to thrive in an increasingly volatile, uncertain, complex, and ambiguous world. Fran and Jason both followed a relatively similar path in their life and career trajectory – a path characterized by an openness and wiliness to explore, experiment, and pivot based on their life learnings. And they both shared with us a few mindset-shifting insights on life and agile leadership that we would like to share with you.
But first, a quick definition of agile leadership is in order. Leading with agility refers to a leader's ability to lead change and navigate challenging times by making tough decisions in complex, fast-changing scenarios while producing results and developing others' capacity to do the same. Agile leadership is more than simply driving and promoting change, it is also about being the change by recognizing the need to let go of old ways of thinking and doing and quickly changing course based on new information and learnings.
So, what are some of the key takeaways from Jason's and Fran's learnings around how we can lead with agility?
Character matters – Character sits at the front and center of everything a leader does. Core values, principles and purpose are essential when navigating turbulent or constantly changing environments. Clarity of the "Why" that drives a leader's desire to lead allows the leader to show up with integrity, trustworthiness, and reliability – all essential elements in inspiring those around them.
Life is hard, no matter what – Embracing change is hard but so is maintaining a status quo that is not serving us well anymore. The moment we realize that no matter which path we choose it is going to be hard, we have the freedom to choose whichever path we feel is right for us or our companies.
Leadership is not just strategy – Leaders need to be equally comfortable setting and leading strategy and operating in the trenches. They need to have the ability and willingness to show up in the capacity that their organization needs them in each given moment in time – be it forecasting the future or solving a technical problem on the production line.
It's not about success or failure, it's what you learn from it – Agile leaders don't operate from or give in to fear of failure. They make the best possible decisions under the given circumstances and information available and quickly recover from and learn from any setbacks. They always seek to learn how to improve even more, always asking "How can this be done better or differently" – they and their teams and organizations adapt, overcome, and not only survive but thrive.
It's all about collaboration, curiosity, and empathy – Self-awareness and willingness to have one's ego in check are necessary conditions in creating teams that are aligned on and equipped to pursue a common purpose. Leading with agility creates space for crucial conversations, embracing and considering the diverse views and perspectives that exist within their companies, and breaks down silos.  Agile leaders ask lots of good questions, leveraging the strengths and expertise of those around them, and allow the answers to shape their thinking. They expect and push others to do really hard things while never forgetting they are still human beings and that community matters. They know the value of developing the highest performing talent not only as individual contributors but also as teams because that is what builds sustainable organizations.
To lead others, you first must know them – Seeing and understanding others' feelings, perspectives, values, motives and drives, is critical to leading with agility. It allows leaders to adjust their style to be most effective in each given moment and find ways to build rapport with others, which is foundational in their ability to influence them. They are also aware that by introducing new members to the team, the whole dynamic changes and needs to be proactively managed to minimize disruption. This is where proximity, regular communications, and tools such as the Predictive Index (PI) assessments allow leaders and team members to learn about each other. Leaders recognize that the more they can leverage people data to design high-performing teams and accelerate the members' awareness of each other's strengths, preferences, and drives, the greater the strategic advantage to their company.
Ultimately, in driving their businesses forward in a purposefully agile way, Fran and Jason saw patience, respect for the relationships in the pursuit of results, humility, and the ability to align the right people with the right "fights" as their critical learnings from this past year.
What have been your learnings as you have sought to remain agile in leading yourself, your teams, or companies?
If you want to have a conversation about how to align your talent strategy with your business strategy and optimize your talent to achieve business results, feel free to reach out to us.