Leading with Agility – January 18, 2023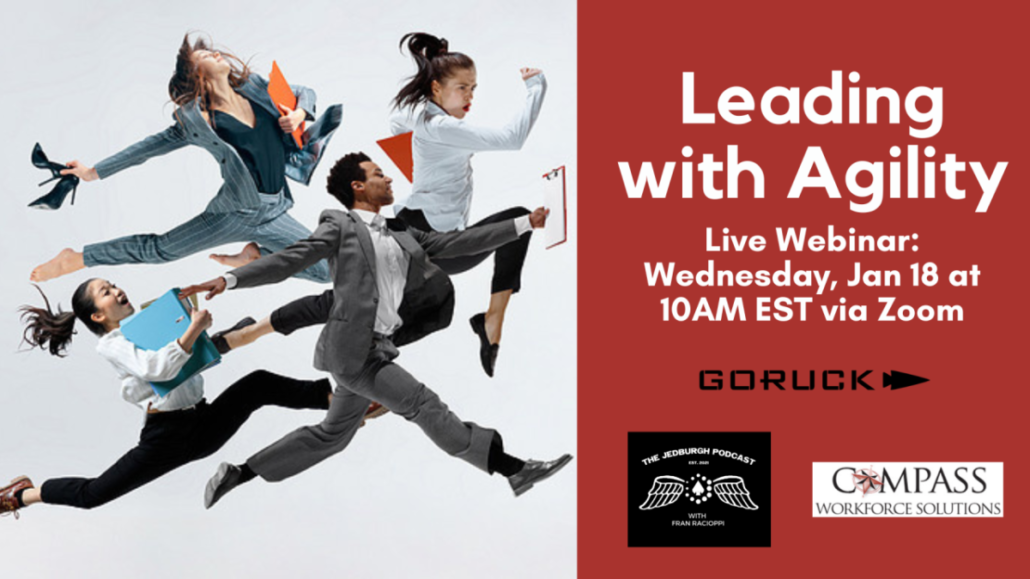 Free Webinar: Leading with Agility
Date: Wednesday, January 18, 2023
Time: 10:00 AM – 11:00 AM EDT
Location: Zoom
Register:  https://pi.compasswfs.com/pl/2147650488
Join Christine Ippolito, SPHR, SHRM-SCP, Founder and Principal of Compass Workforce Solutions LLC, along with Francis Racioppi, CPP, CBCP, Founder & CEO of FRSIX, and Jason McCarthy, CEO of Sandlot Technology & GORUCK, for this free webinar!
As the uncertainty continues in our economy and the priority to attract and/or retain top talent being top of mind for the C-Suite, leading with agility at work is one certainty people managers and leaders can leverage for success.
In the webinar, we will address:
> What does it mean and look like to lead and manage with agility
> The necessity of learning agility in the workforce
> Why a focus on high performing teams vs. high performing individual contributors a best practice
Christine is the Founder and Principal of Compass Workforce Solutions LLC, a human resources consulting firm dedicated to providing HR expertise and resources to meet the needs of small businesses in New York, New York City and New Jersey. Christine has a passion for helping small businesses succeed in a challenging regulatory environment and has built a strong reputation as an expert and leading voice in the area of Human Resources. She has served clients in a leadership capacity for 25 years in multiple industries and environments within Fortune 250, venture capital and equity-backed companies, as well as privately held and family-owned businesses.
Fran Racioppi is the Founder & CEO of FRSIX, a strategic resourcing firm with operations across the globe. Fran advises on talent management and leadership for Analytix Solutions, a 900-person Boston-based firm, and previously led Genius Fund as the Chief Executive Officer. Fran served as the Director of Global Security for Snapchat where he was recruited to professionalize and scale the security organization across the globe. Fran currently serves as the performance development coach for Boston University Men's Rowing and leads leadership programs for Retro Fitness.
Jason McCarthy is the Founder & CEO of GORUCK. A former Special Forces Green Beret, Jason founded GORUCK in 2008. GORUCK executes 1,000+ Rucking Events per year, all over the globe, led by current and former Special Forces. Rucking events are building teams and empowering individuals from all walks to lead active, engaged lives. Rucking is as simple as putting some weight on your back and going for a walk. Jason believes the best part of GORUCK is and will always be the people.