Interview Skills Training for Managers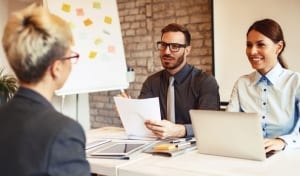 Are you confident that your hiring managers have the necessary skills to recruit the best candidates to join your workforce?
On Wednesday, May 22, 2019, Compass Workforce Solutions will be holding an Interview Skills Training for Managers from 9:00 AM-11:00 AM in our Hauppauge office's media center. This training session costs $199.00 per person.
Registration is limited to 25 people per training session.
The training will include interactive discussion and exercises, and cover the following topics:
How to identify the key Knowledge, Skills and Abilities (KSAs) for a position and why they are crucial to the recruitment process.
Preparing for and conducting a successful job interview.
What behavioral interview questions are and why they are most effective.
How to avoid asking illegal questions.
Best practices after an interview.
We look forward to seeing you at our event. Please contact us at info@compasswfs.com or call 631-794-7400 for additional information regarding this event.
If you are interested in registering for this event, please click below:
Buy 1 Give 1 (B1G1) Donation
For every sexual harassment trainee Compass Workforce Solutions will be donating to a project designed to give people access to clean water in Ethiopia through Buy 1 Give 1 (B1G1). B1G1 is a non-profit organization dedicated to creating a world full of giving by helping small to medium-sized businesses make a big impact in the world. To find out more information about this project, CLICK HERE.