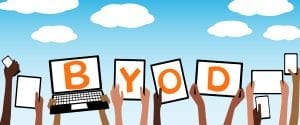 BYOD a.k.a. Bring Your Own Device to work.  Employees bringing their personal technology to work, i.e., laptop, smart phone, tablet PC, has become quite common.  It's a challenge to prevent them from accessing their device during work time, so why not allow your employee to use it for business?
Trend or Common Business Practice?  BYOD has been listed as one of the top workplace issues trending in 2014.  It may not have made a planned entrance into the workplace, but has infiltrated into organizations and naturally adopted. The practice may have advantages, it also brings risks to employers.
Think About the Benefits?
Money Saver!  Mobile devices have evolved dramatically and your employee may be privy to cutting edge technology.  Reason enough for employers to welcome this practice.
Increased Productivity!  The employees' device(s) serves as a personal and professional tool allowing flexibility to work anywhere, anytime assisting in work-life balance.
Morale Booster!  Employees are using technology and devices they feel comfortable with and will learn new programs on their own.  They're happier choosing their own devices and don't have to worry about being reprimanded for using it.
Will the Risks Outweigh the Benefits?
Overtime Pay.  Being mobile, employees may feel obligated to remain "on call" and work beyond designated hours creating an HR nightmare in wage and hour law violations.
IT and Security Risks. Networks, applications and user interfaces where data is is stored becomes vulnerable. Devices can become infected with viruses which unintentionally get invited into the company network.
Data Confidentiality and a Lost or Stolen Device.   Confidential, sensitive company information can be easily accessed by the employees.  If the device is lost or stolen a breach in company privacy occurs making your confidential information accessible by anyone.  If the employee is no longer employed with your company, what happens to your data?
Licensing, Anti-Virus, and Contract Fees.  Program licenses belong to the employee, not the company, creating compliance issues.  Paying for licensing and anti-virus fees, not to mention monthly contract fees, may not be cost effective.
Confusion of Data Ownership.  How is the employees' personal data segregated from company data?  The company wants to maintain confidentiality of their data, what happens if they gain access to the employees' personal information? Could create a very uncomfortable situation.
HR Consideration – Create BYOD Policy
Protecting your company's interest starts with establishing a strong BYOD policy, allowing employees to access their own devices for work purposes and setting controls over the risks associated with device use.
The policy should establish clear, defined work times so employees don't feel like they are "on call" and work past defined work times. If required to work past defined work times, then overtime must be tracked and paid, especially for non-exempt employee
The policy should detail who pays for what, how much control the company gets over devices, what happens if the device is lost, stolen or the employee leaves the company. It should also include IT considerations such as encrypting company data, utilizing passwords within the company hierarchy, and limiting access to confidential information by unauthorized users.
It should address how company data is stored versus personal data.
In the ever-changing world of technology, the policy needs to be reviewed and updated regularly.
HR must clearly communicate the policy to employees, ensuring it is followed by those who BYOD and the employee remains a good fit for the privilege of utilizing their own device.
What does your Company Policy say about BYOD?
Compass Workforce Solutions can help. Call our office, speak to a human resource professional about your company's policies or employee handbook.
/wp-content/uploads/2016/12/compass-logo.jpg
0
0
compassadmin
/wp-content/uploads/2016/12/compass-logo.jpg
compassadmin
2014-04-07 11:36:53
2017-04-14 11:44:54
Does Your Company BYOD?