Compass Workforce Solutions is awarded IMAGE Certification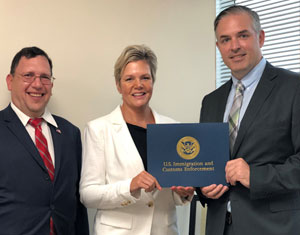 June 27, 2019 Compass was approached by an outreach officer for Immigration and Customs Enforcement in early 2018 as our presence on Long Island was noticed as having the ability to effect change within our region and client base. As a result, Compass Workforce Solutions was awarded IMAGE Certification.
Form I-9 is used for verifying the identity and employment authorization of individuals hired for employment in the United States. All U.S. employers must ensure proper completion of Form I-9 for each individual they hire for employment in the United States. This includes citizens and noncitizens. Form I-9 is issued by USCIS and the Department of Homeland Security.
"We are very proud to be part of this program and the ability it provides to us to obtain insight and guidance in a confidential manner to our clients on the complex area of Immigration and work eligibility including questions on completing and self-auditing Form I-9 directly from our contact at ICE."

Christine Ippolito SPHR-SHRM SCP, Principal Compass Workforce Solutions.
The IMAGE program is a Mutual Agreement between Government and Employers (IMAGE) program initiated by Immigration and Customs Enforcement, ICE, in July 2006. This program assists employers to develop a more secure and stable workforce. It also enhances fraudulent document awareness through education and training.
IMAGE now offers a formal membership certification program that focuses on exceptional employers that can effect change within their industry or region. These employers also serve as an example and role model in the business community while highlighting the importance and viability of immigration compliance.
For more information or if you are interested in becoming an IMAGE Certified employer click on the link below: