NYC Issues Model Policies and Model Request Form for Nursing Mothers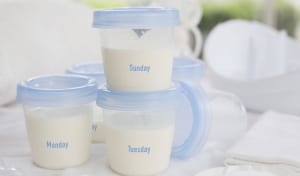 Last month we notified you that New York City was adopting more stringent requirements for how an employer must respond to an employee's request for an accommodation to pump breast milk while at work. These requirements, which took effect on March 18, include providing a private place, other than a bathroom, that is shielded from view and free from intrusion from co-workers and the public, to express breast milk, as well as:
a refrigerator suitable for breast milk storage in reasonable proximity to the employees' work area;
an electrical outlet in the lactation room itself; and
nearby access to running water.
Model Policies Include Additional Requirements
The new law requires employers to have a written policy to address lactation accommodations, and the City has just released three versions of model policies for employers who:
have a dedicated lactation room;
will provide a multi-purpose room for the purpose of lactation as needed; or
are unable to provide a room for lactation.
The model policies provided by NYC indicate that there are additional requirements that an employer must meet, such as:
providing employees with written notice of the lactation accommodation policy before they return from childbirth/maternity leave and requesting information from the employee regarding the need for a reasonable accommodation to express breast milk at work;
responding to a request for a lactation accommodation as quickly as possible within five (5) business days; and
providing a temporary accommodation during the time it takes to respond to a request and/or engage in a cooperative dialogue to determine the parameters of an accommodation, so that the employee can pump in a manner that meets the employee's immediate needs.
The City has also provided a Model Lactation Accommodation Request Form and a guide for employers entitled Lactation Accommodations: What NYC Employers Need to Know. Both of these documents can be accessed here.
If you would like assistance drafting or updating your Lactation Accommodation policy, please call our office at 631-794-7400 to speak with one of our HR Business Partners, or email us at info@compasswfs.com.