How To Survive 'The Great Resignation' in 2022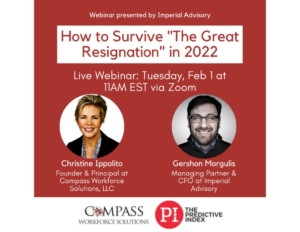 Webinar: How To Survive 'The Great Resignation' in 2022
Date: February 1, 2022
Time: 11:00 AM
Location: Zoom
Register: https://us02web.zoom.us/meeting/register/tZwsfu-qrD0jHNAC-jGQkwbbAk9Rfn4tnGTK
Did you know that over 20 million people quit their jobs in the second half of 2021? 
There are many reasons why people are leaving jobs but it ultimately comes down to how satisfied they are in their positions and companies. Employee satisfaction is going to be the key determinant for whether a company will be greatly impacted by "The Great Resignation" in 2022.
Join the Imperial Advisory CFOs Team in hosting Christine Ippolito, SPHR, SHRM-SCP, Founder and Principal at Compass Workforce Solutions, LLC. for our upcoming "How To Survive 'The Great Resignation' in 2022" webinar on Tuesday, February 1st at 11 AM EST via Zoom.