Compass' Founder Christine Ippolito Featured in Newsday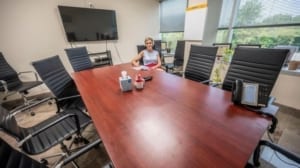 LI firms rethinking the 5-day office workweek By: Laura Albanese

Businesses across Long Island say remote work practices forced by the pandemic will likely have a permanent impact on day-to-day operations, with many expecting to rely more heavily on telecommuting. Some even anticipate the five-day in-office workweek will become a thing of the past. 
In a Newsday survey of over two dozen Long Island businesses, representing tens of thousands of employees worldwide, the overwhelming majority said they preferred a "hybrid" work model, even after COVID-19 is no longer a threat. This model allows for flexibility — an environment where employees have the option to work remotely some days and work in-office others. Of the 28 businesses polled, only four anticipated remaining almost completely office based. 
Reasons for the shift to broader remote work policies included increased productivity, happier employees, no commute, and the ability to recruit talent from outside the immediate geographical area. Detractors, meanwhile, believe a greater focus on remote work will dehumanize businesses and isolate workers. 
The local trend is in line with what businesses are thinking nationally. Sixty-eight percent of organizations say they will probably or definitely adopt broader work-from-home policies, even after the threat of COVID is over, according to a national survey conducted by the Society for Human Resources management, which polled 1,087 HR professionals in mid-May. The larger the company, the more likely they are to introduce greater flexibility, with 73% of organizations with 500-plus employees reporting they'll introduce more expansive telecommuting policies. 
No looking back 
"I don't think anyone is going back to what we did before," said Christine Ippolito, founder and principal at Compass Workforce Solutions, a Hauppauge-based human resources consulting company. It's necessary, she said, for companies to "think about what the best way is to run my business and be as efficient as I can in the new environment. That needs to be the mindset; not, 'When can we go back to what we used to do.'"

Ippolito, who has seven employees, believes the hybrid model is the way to go, and she foresees many in-person meetings becoming virtual for good. "Work is hard enough," she said. "Let's take down the obstacles and the barriers that can make it torturous."

There's also the fact that many companies aren't in a position to offer cash incentives because of the economic downturn. "Flexibility is something they can give employees since they can't give them raises," she said.

Read the full Newsday Article by Laura Albanese: https://www.newsday.com/business/coronavirus/remote-work-home-office-workers-1.47850157