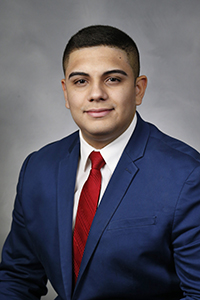 Andres David
HR Coordinator
Andres is currently pursuing a Master's degree from New York Institute of Technology in Human Resource Management, and Labor Law Relations.  He is very involved in school and organizations like Society for Human Resource Management and the NYIT SHRM Chapter.  He has recently competed in the New York State SHRM Case competition with his school.  Andres has also been selected as a finalist for the 2019-2020 Hispanic Scholarship Fund Program.  He is one of 15,000 students selected from a pool of 72,000+ applicants from across the country.
As an HR Intern at Compass, Andres is responsible for providing HR support services to the HR team and the clients.  Andres also is responsible for delivering employee notifications for new hires, recruitment, on-boarding, and terminations; compiling new hire kits; required workplace posters; benefit kits and he also supports Compass at business meeting and events.
Andres continues his studies and works in the HR field because he loves to help others pursue their organizational goals. Some of Andres hobbies are reading and listening to motivational speakers, playing soccer and going fishing on the weekends with friends and family.