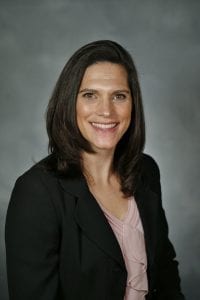 Joanna Hall, CCP, SHRM-SCP
HR Business Partner
Areas of Expertise: Compensation; Compliance Program & Processes; Talent Acquisition and Workforce Planning; Performance Management; Employee Relations
Joanna joined Compass Workforce Solutions as an HR Business Partner with over 15 years of experience in the Human Resources field. Immersed in leadership experiences from the start of her career as a graduate of the United States Military Academy at West Point and an HR officer in the Army, Joanna has developed a reputation for leading by example, building and developing highly functioning and cohesive teams, and advancing organizational and individual accountability.  She encourages the managers and staff that she supports to cultivate these values in the workplace in order to reach their top performance.
Prior to joining CWS, Joanna worked in a variety of human resources roles with an emphasis on talent acquisition, workforce planning, HR compliance, employee relations, and compensation. The organizations with which she has worked in an HR capacity might be as diverse as they come—from the military, to a private family-owned merchandising company, to a federally-funded scientific laboratory.  Each organization had its own unique culture, mission, and business processes to learn, but human behavior in the workplace was always a significant contributing factor to the company's level of success and an important element to consider when partnering with the organization to achieve its goals.
Joanna has found throughout her time working in human resources that her passion in this field comes from helping managers who have entered unknown territory in dealing with a complex workplace issue or regulation and guiding them on a path that will allow them to effectively move past the hurdle and return to their primary focus on the business. It's this passion that drew Joanna to Compass Workforce Solutions and its mission to provide this service to its customers especially within the small business community.
In addition to the knowledge gained through her experiences on the job, Joanna brings to this role a strong foundation in HR knowledge through the attainment of a Master of Professional Studies degree in Human Resources and Employment Relations from Penn State. She is also a Certified Compensation Professional (CCP), a credential she uses to help organizations develop and implement compensation programs that support their business strategy. Additionally, Joanna holds the Society for Human Resource Management – Senior Certified Professional (SHRM-SCP) credential, reflecting her commitment to the profession and practice of HR.
When not working, Joanna spends as much time as she can enjoying her home in eastern Long Island with her two children and husband. Activities that she likes to do on her own time to keep balance in her life are singing, reading and practicing yoga.