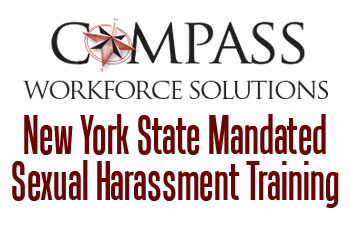 http://compasswfs.com/wp-content/uploads/2018/10/Compass-NYS-Training.jpg
232
350
compassadmin
/wp-content/uploads/2016/12/compass-logo.jpg
compassadmin
2018-10-04 10:08:33
2018-10-04 10:38:15
Effective 10/09/18: NYS Mandated Sexual Harassment Training
/wp-content/uploads/2016/12/compass-logo.jpg
0
0
compassadmin
/wp-content/uploads/2016/12/compass-logo.jpg
compassadmin
2018-09-24 12:43:07
2018-09-24 12:54:53
Pay Equity:  Increasing Focus and Legislation
Pay Equity: Increasing Focus and Legislation
May 2018
Lockstep with the #MeToo movement and the recent focus on sexual harassment, legislators in New York and New Jersey have also recently increased their focus on pay equity issues in the workplace. With a longer statute of limitations and the potential for treble damages, employee claims in this arena of pay discrimination could be amongst the most costly for employers in our region.
New Jersey Legislation
The most recent sweeping changes to state pay equity laws occurred with the New Jersey Governor's signing of the Diana B. Allen Equal Pay Act on April 24, 2018, to take effect July 1, 2018. This amendment to the Law Against Discrimination (LAD) does the following:
Prohibits paying employees who are in a protected class at a lower rate of compensation, including benefits, for substantially similar work, when viewed as a composite of skill, effort and responsibility.
Expands protected characteristics beyond gender and race/ethnicity.
Prohibits retaliation against any employee for discussing or disclosing compensation information about any current or former employee.
Prohibits requiring employees to waive or agree to not make such disclosures as a condition of employment.
Places additional reporting requirements on state contractors.
Extends statute of limitations for pay equity violations to six years.
Awards treble damages where an employer is found in violation.
Stipulates unlawful employment practice occurs each occasion that an individual is affected by a discriminatory compensation decision.
The NJ Senate also passed a bill (awaiting Assembly vote), which would prohibit any employer from inquiring into the salary history of a job applicant and from relying on an applicant's salary in determining a salary amount in any stage of the hiring process.
New York State and New York City Legislation
New York was an early adopter in this arena, but here is a reminder of related laws passed recently in the NY region:
October 31, 2017, NYC became the first municipality in the nation to enforce a law prohibiting all employers from inquiring about job seekers' salary history during the hiring process.
Westchester and Albany Counties have also passed similar laws banning salary history inquiries, with NY State currently considering legislation (bill under Senate review)
Achieve Pay Equity Law amended New York State's existing equal pay act effective January 19, 2016, which imposed the following changes:

No longer can rely on "any factor other than sex" to explain pay differential, but must be "bona fide factor other than sex" which cannot be based on a sex-based differential, must be job-related and consistent with business necessity.
Expands definition of "same establishment" to include establishments within the same geographic region within the size of a county.
Liquidated damages up to 300 percent on the unpaid wages for a willful violation.
Employers may not restrict employees from sharing wage information or take adverse action against an employee who inquires about, discusses, or discloses his or her wages or the wages of another employee (with some limitations).
In light of this increased attention, consider how confident you are in the answers to these questions for your business:
How do I know if I am paying employees equitably in comparison to one another internally in my company?
Have we identified the most critical positions in our company or job factors for which we will compensate differently?
Do our employees understand how they are paid and do they view their compensation as a positive or a negative?
Are we aware of all the areas where the company may have legal exposure for discriminatory pay practices and do we know how to mitigate that risk?
Recommendations for Employers
Ensure all company policies, procedures and practices are updated to be consistent with new pay equity laws.
Consider engaging in attorney-client privileged equal pay studies to ensure that compensation disparities can be explained based on legitimate, non-discriminatory reasons.
Contact us today for a consult on how CWS can partner with you on understanding pay equity and reducing risk for your business.
/wp-content/uploads/2016/12/compass-logo.jpg
0
0
compassadmin
/wp-content/uploads/2016/12/compass-logo.jpg
compassadmin
2018-05-21 09:24:33
2018-05-21 09:24:33
Pay Equity: Increasing Focus and Legislation
Sexual Harassment in the Workplace
Is Your Business Prepared for New York's Response to #MeToo?
Many New York employers may be caught by surprise that with the state budget recently signed by Governor Cuomo on April 12, 2018, employers are now subject to a number of new requirements under the New York law related to sexual harassment. Rather than following the normal legislative path of a stand-alone bill, these sweeping policy changes were fast-tracked in the state's 2018-2019 budget bill.
Here is what you need to know about the new law and when employers must be in compliance:
Now (as of 4/12/18): Non-employees Covered
Employer may be held liable for sexual harassment towards a non-employee who is a "contractor, subcontractor, vendor, consultant or other person providing services pursuant to a contract in the workplace"
7/11/18: Change to Settlement Agreement Non-Disclosure Provisions
Prohibits including in sexual harassment claim settlements any term or condition that would prevent the disclosure of information related to the claim unless confidentiality is the complainant's preference
7/11/18: Change to Mandatory Arbitrary Provisions
Prohibits provisions of any contract to resolve any claim of sexual harassment through mandatory binding arbitration (stay tuned as this state law may ultimately be preempted by the Federal Arbitration Act)
10/9/18: Mandatory Sexual Harassment Prevention Policy
All New York employers must either adopt the model policy to be developed and published by the state or develop and distribute their own policy compliant with the model's standards
10/9/18: Mandatory Annual Sexual Harassment Prevention Training
Employers must present the state-approved model (to be developed and published) or their own interactive training program compliant with the state standards on an annual basis
1/1/19: Requirements for Bids on State Contracts
Bids on certain state contracts must contain language affirming that the bidder implemented compliant policies and training
Close on the heels of New York State is also new legislation for New York City passed by city Council and expected to be signed soon into law by Mayor de Blasio. This new law will have similarities to what the New York State law requires, to include mandatory sexual harassment annual training, but with some differences:
Required poster and notice to employees to be implemented 120 days after becoming law
Starting 4/1/19 for employers with 15 or more employees, mandatory sexual harassment training to be conducted annually and within 90 days of new hire start; required content is more detailed than NYS requirement with emphasis on complaint procedures and bystander intervention
Expands coverage of gender-based harassment cases to include employers with fewer than four employees
Extends statute of limitations for filing gender-based harassment claims from one to three years after the alleged conduct
Do you have questions about the new Sexual Harassment Prevention legislation in New York State and New York City? Contact the office to speak with one of our HR Business Partners today.
/wp-content/uploads/2016/12/compass-logo.jpg
0
0
compassadmin
/wp-content/uploads/2016/12/compass-logo.jpg
compassadmin
2018-05-03 14:20:33
2018-05-03 14:20:33
Sexual Harassment in the Workplace - #MeToo
The IRS issued the 2018 W-4 form on February 28, 2018. Effective immediately, employers must implement the updated 2018 W-4 form for use by their employees in new hire kits or when employees request to make changes to their Federal withholdings.
There are a few changes to the form due to the new tax reform law enacted in December of 2017. Employees may want to review their current withholding elections and provide a revised W-4 form to ensure correct amounts are being withheld, especially if they have children or usually itemize their deductions. Two key changes that impact most tax payers are highlighted below:
Child Tax Credit:
There are two important changes to the child tax credit that impact taxpayers and should be reflected on the W-4 form. First, the child tax credit doubled from $1,000 to $2,000 under the new law, so employees may be allowed more withholding allowances due to this change and have less taken out of their paycheck. Second, the income threshold was increased from $110,000 to $400,000 for joint filers, so employees may now be eligible for the child tax credit when they weren't before.
Standard Deductions/Itemized Deductions:
The standard deduction for single filers has increased from $6,350 to $12,000. For filers who are married filing jointly, it rose from $12,700 to $24,000. If employees itemize their deductions, they can usually claim more withholding allowances on their W-4, allowing their employer to withhold less. But with some of the changes under the new tax reform law, employees may see fewer itemized deductions or may now have to take the standard deduction since it has almost doubled. If this is the case, employees may need to lower their withholding allowances and have more taxes taken out of their paychecks.
As always employees should reach out to their tax advisor for assistance and guidance.
Do you have questions regarding the new W4 Form?  Please contact our office to speak with one of our HR Business Partners today!
Contact Compass Workforce Solutions at 631-794-7400.
or visit our website
/wp-content/uploads/2016/12/compass-logo.jpg
0
0
compassadmin
/wp-content/uploads/2016/12/compass-logo.jpg
compassadmin
2018-04-13 15:29:21
2018-04-26 15:38:19
2018 Updated W4 Form